Many factory buildings are in fact, it is steel buildings. Since the construction speed of steel structure is fast, light, the earthquake resistance is good and environmentally friendly, and gradually concrete buildings were gradually replaced in industrial factory planning, there are more consumers are rushing to its advantages.
Steel Building Specification – Portal Frame
The Portal Frame has the characteristics of simpler supporting load stress, clearer force transmission path, faster component production, easier factory processing, shorter construction period, so it is widely used in industrial buildings.
The Portal Frame originated in the United States, has experienced a structural system with a relatively perfect design, manufacturing and construction standard.
In the steel structure roof design, when the steel building span is 9 ~ 36m, the height is more than 10m, we generally use the structure form of the Portal Frame.
Types of Prefab Steel Farm Building
The Structural of Portal Frame Divided Into Typical Portal Frame, a portal frame with crane, and a portal frame with Mezzanine floor.
Typical Portal Frame
Portal frame with crane
Portal frame with Mezzanine floor
Steel Building Specification – Connection Detail
Steel column base nodes
Beam, column node
Steel Building Specification – Secondary Structure
The support system of the steel structure building is divided into roof support and column support.
Role of roof support
Guarantee the overall role of the structure: The structure consisting of plane beams and roofing materials is an unstable system that may pour in all roof frames on the top of the column. If some roofer is connected to the appropriate part, becomes a stable spatial system, and the remaining housing racks are connected to other components in this spatial stabilization system, ensuring the stability of the entire roof structure, making it a space.
Avoid the side direction of the pressure rod to prevent excessive vibration of the pulling rod: The support can be used as the lateral support point of the housing string, and the chord rod is reduced outside the plane of the roofer, ensuring the lateral stability of the string sine rod, and causes the pull down the string to be under certain motivation (eg cranes) Overexmodes generate excessive vibration.
Bearing and delivering level load
Ensure the stability and convenience of the structure installation: The installation of the house is generally starting from one end of the housing temperature section. First, the two-phase neighboring shelf is first connected to form a basic spatial stabilizer, and the installation of other components can be performed in order.
The role of the column support
Composition of strong longitudinal architecture to ensure the longitudinal stiffness of the factory.
Under the wind load, the longitudinal horizontal per capita and temperature stress of the end of the plant, and the temperature stress can be used as the fulcrum of the frame column in the plane of the frame, reducing the calculation length of the column outside the frame.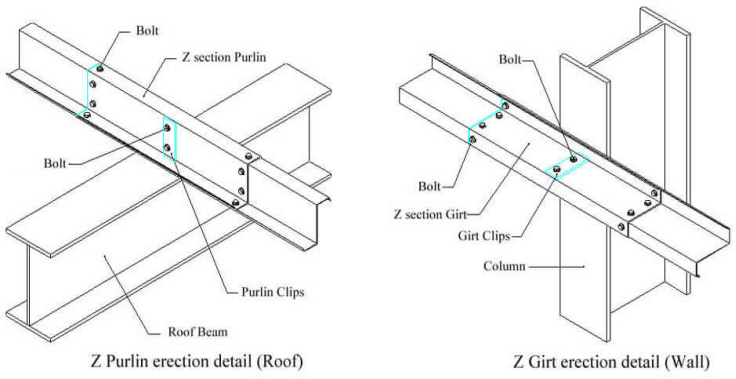 The Applications of Steel Buildings
The steel structure is a very important type of building structure in modern architecture, with strong strength, light weight, good rigidity, strong toughness and many other advantages, so, the application field is also very wide. Today, in general, steel structure xiaobian and you specifically to understand the application of steel structure in various fields.
Generally speaking, there are many types of steel structures, and different types of steel structures are suitable for different occasions:
1. Heavy Steel structure Workshop
Generally speaking, the crane lifting weight is larger or the work is more heavy workshop will use this steel skeleton, such as metallurgical plant open furnace, converter workshop, mixing furnace workshop, rolling workshop; Heavy machinery plant steel casting workshop, hydraulic press workshop, forging workshop and so on.
Zhongpu Heavy Industry co., Ltd. as a heavy steel structure design, manufacturing, construction unit, in heavy plant structure engineering has accumulated a lot of industry experience. Compared with light gantry steel frame plant, the heavy plant requires more management in a design capacity, manufacturing technology level, transportation and process construction.
2. Large span steel structure
For example, aircraft workshop, hangar, dry coal shed, hall, stadium, exhibition hall and so on all need to use large-span structure, its structural system is mainly grid, suspension cable, arch and frame.
Large-span space steel structure is widely used in urban construction of major cities in China. As a professional comprehensive steel structure enterprise, Zhongpu Steel Structure Company also actively participates in the steel structure engineering work in municipal and transportation infrastructure construction.
3. Multi-stories Steel structure
The advantage of a multi-story steel structure is that production is carried out on different elevation floors, each floor has not only horizontal connection but also vertical connection.
Therefore, in the workshop design, not only to consider the same floor of each section should have a reasonable connection, but also must solve the vertical connection between floors, and arrange the vertical direction of traffic.
How to improve the efficiency of steel structure buildings?
As we all know, the market for steel structure building is very transparent. We only earn a little processing fee, but at the same time we also provide you with a lot of things (cargo management, storage costs, workers' welding, painting, loading costs, designers' design costs, and in the later stage, we will guide the installation one by one), we will bear all these.
If you choose to use a steel structure building, from planning to putting it into use, it can be completed within a few months if the progress is smooth. So in what ways can steel structure building improve efficiency?
Design efficiency
We can provide the one-stop solution for you from design, manufacture, transportation to installation. Our technician team has more than 10 years of work experience in this steel structure design industry. They will make professional structural calculations on every project to make sure the safety of the structure. A good design is also helpful for saving costs and installation.
Production efficiency of steel components
Usually, our delivery time is 15-20 days. If you need it urgently, we can speed it up. The whole production is progressing under strict quality control, we can provide you with the quality certificate before delivery. Besides, we will pre-install the main structure in our factory, to make sure a smooth installation on your site.
Transportation efficiency
For the package, we will make the tag on every item, so you can check and find it easily when you receive the cargo. We will write the serial number and item name on the tag and keep it the same as the construction drawing, trying our best to make your site work go easily.
Installation efficiency
We will provide the full set of construction drawings for you. If you are not familiar with steel structure building, we can also provide you with 3D design. It will be much easier to understand.
After-sales Service
After the project is completed, if there is any problem, you can contact us at any time, and we will do our best to help you.
(We have been to win the reputation of good quality, best service and competitive prices. And we have many customers in the Philippines, we don't want to damage our brand).
Further Reading: Steel Structure Installation & Design
Contact Us >>
Have questions or need help? Before we start, you should know that almost all prefab steel buildings are customized.

Our engineering team will design it according to local wind speed, rain load, length*width*height, and other additional options. Or, we could follow your drawings. Please tell me your requirement, and we will do the rest!

Use the form to reach out and we will be in touch with you as quickly as possible.
About Author:

K-HOME
K-home Steel Structure Co., Ltd covers an area of ​​120,000 square meters. We are engaged in the design, project budget, fabrication, and installation of PEB steel structures and sandwich panels with second-grade general contracting qualifications. Our products cover light steel structures, PEB buildings, low-cost prefab houses, container houses, C/Z steel, various models of color steel plate, PU sandwich panels, eps sandwich panels, rock wool sandwich panels, cold room panels, purification plates, and other construction materials.