Steel structural construction systems are mainly composed of two parts: the main steel structure system and the steel cladding system.
The steel cladding system is used to resist environmental adverse effects (also including some accessories).
According to the position in the building, the steel cladding system is divided into an external cladding system and an internal steel cladding system. The outer steel cladding system includes exterior walls, roofs, windows, external doors, etc., which are used to resist wind and rain, temperature changes, solar radiation, etc., should have thermal insulation, insulation, sound insulation, waterproof, moisture-proof, fire, durability.
The inner steel cladding system is such as partitions, floors and interior windows, and the indoor spatial effect should have sound incenses, obeys, and certain specific requirements. The steel cladding system is usually referred to as an external steel cladding system such as the outer wall and the roof.
The components of the Metal Cladding System
Corrugated Metal Sheet
Corrugated Metal Sheet, is color coated steel plate, and cold-bended into a variety of shapes. It is suitable for industrial and civilian buildings, warehouses, large-span steel structural buildings, internal and external wall decorations, it has the original strength of the steel plate and lower cost. Now it is very popular.
Daylighting Panel
Commonly used in building roof for lighting.
Thickness: 0.6mm, 0.8mm, 1.0mm, 1.2mm, 1.5mm, 1.8mm, 2.0mm, 2.5mm, 3.0mm, or as required.
Width and length: As required
Technical feature:
Corrosion Resistance
Strong Strength
Aging Resistance
Chalking Resistance
Self-cleaning
Yellowish Resistance
Cheaper Maintenance
Excellent Performance
Insulation
Use color steel plates and insulation cotton. First lay a layer of insulation cotton material in the roof, then install the color steel plate. Steel structure roof insulation cotton, commonly used glass wool-cotton material, roof thermal insulation effect is very good, and it is also a more popular steel structure building, plant greenhouse and other roofing procurement.
Rock Wool Sandwich Panel
Sandwich board is a common product in the current building materials, which is not only good to flame retardation but also environmentally efficient. The sandwich panel is compressed by the upper and lower metal plates and the insulating internal material.
It has the characteristics of easy installation, and high quality and environmental protection. Depending on the internal core material, it can be divided into EPS, Rock wool, glass wool, polyurethane sandwich plate.
Rockwool Sandwich Panel Has Class A fireproof level, has good adiabatic performance, excellent sound insulation and sound absorption performance.
It generally can be used for building external wall insulation.
Polystyrene (EPS) Sandwich Panel
The Polystyrene (EPS) Sandwich Panel is beautiful, the color is bright, the overall effect is good, the weight is light, heat preservation, waterproof, and does not need the secondary decoration, it is a wide range of uses, especially for the construction site, such as the office, warehouse, the wall, etc., especially in the use of rapid installation, there is an obvious advantage, and the cost is low.
Scope of application: workshop, office partition wall, steel structure room exterior wall maintenance, decorative building materials, prefab house building, etc.
Fire Level: B3 (not fireproof).
Polyurethane (PU) sandwich panel
Polyurethane sandwich panel, also known as PU sandwich plate.
This product is made of polyurethane foam as core insulation material and pressed by two metal panels, which is usually used in industrial plants, logistics warehousing, wall surface, roof enclosure system.
The combustion performance of the polyurethane sandwich panel reaches B1, and the valid width of the sheet is usually 1000 mm, which also can be customized.
The production of the polyurethane sandwich panel requires the advanced sandwich panel continuous production line, the process is the internal and external galvanized ( or Aluminized zinc) colored steel plate cold bending, intermediate coated polyurethane.
The anti-leakage sandwich house panel is made by patented technology, and the advantages of the polyurethane sandwich panel are used to ultimate.
The PU sandwich panel has the following features:
The thermal conductivity of the thermal conductivity and the thermal conductivity is low, it is the best insulation material;
Good appearance, and easy installation;
Good fire resistance;
Non-toxic tasteless;
Waterproof, and moisture.
Trim and Flashing for Metal Cladding System
The Trim and Flashing of the steel structure building usually use color steel plate folding, one is for waterproof, one is for beauty.
For example, wall corners, roof corners, door and window holes, etc.
Wall Flashing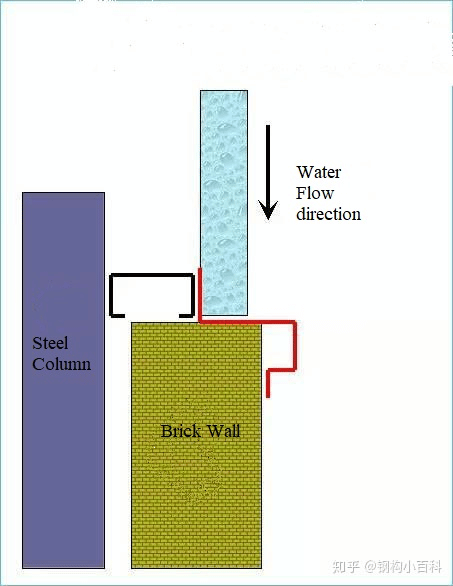 Location: A project with brick wall, located in the brick wall and wall panel connections.
Uses: Waterproof
Door and Window System Edge Cover
Roof Ridge Cap- Outer Ridge Cover and Inner Ridge Cover
Outer Ridge Cover: Cover the roof ridge above sandwich panel;
Inner Ridge Cover: Cover the roof structure ridge on the Herringbone beam.
Role: Prevent the roof from leaking.
Roof System Eave Cover
Location 1: The end of the cornice of the roof panel.
Location 2: Connection joint between gable panel and roof panel.
Role: Seal the exposed part of the roof with Rock wool and guide the rainwater down.
Water Gutter
According to position:
1. Gutter at the junction of two spans,
2. A gutter in the eaves.
According to whether exposed: Internal gutter and external gutter
The role of gutter: drainage.
Gutter at the joint of two spans
Internal gutter
External Gutter
How is Metal Cladding Installed?
Metal cladding system can be laid vertically, horizontally to meet your requirements, and is even capable of being applied to curved facades and a variety of unusual shapes. It's available in a range of corrugated and other profiles, or can be laid flat as part of a panelized installation for an ultra-modern effect.
The Importance of Steel Cladding System
The cladding system not only maintains the warmth of the factory but also has an aesthetically look. According to the experience of construction, we must pay attention to the installation of the cladding system of the steel structure building.
If the cladding system is guaranteed by the steel structure building, the sandwich panel or other enclosure material is the basis for the guarantee.
Contact Us >>
Have questions or need help? Before we start, you should know that almost all prefab steel buildings are customized.

Our engineering team will design it according to local wind speed, rain load, length*width*height, and other additional options. Or, we could follow your drawings. Please tell me your requirement, and we will do the rest!

Use the form to reach out and we will be in touch with you as quickly as possible.
About Author:

K-HOME
K-home Steel Structure Co., Ltd covers an area of ​​120,000 square meters. We are engaged in the design, project budget, fabrication, and installation of PEB steel structures and sandwich panels with second-grade general contracting qualifications. Our products cover light steel structures, PEB buildings, low-cost prefab houses, container houses, C/Z steel, various models of color steel plate, PU sandwich panels, eps sandwich panels, rock wool sandwich panels, cold room panels, purification plates, and other construction materials.