Metal Building Warehouse (Tanzania)
warehouse building / steel warehouse / metal warehouse / steel warehouse structures / steel warehouse building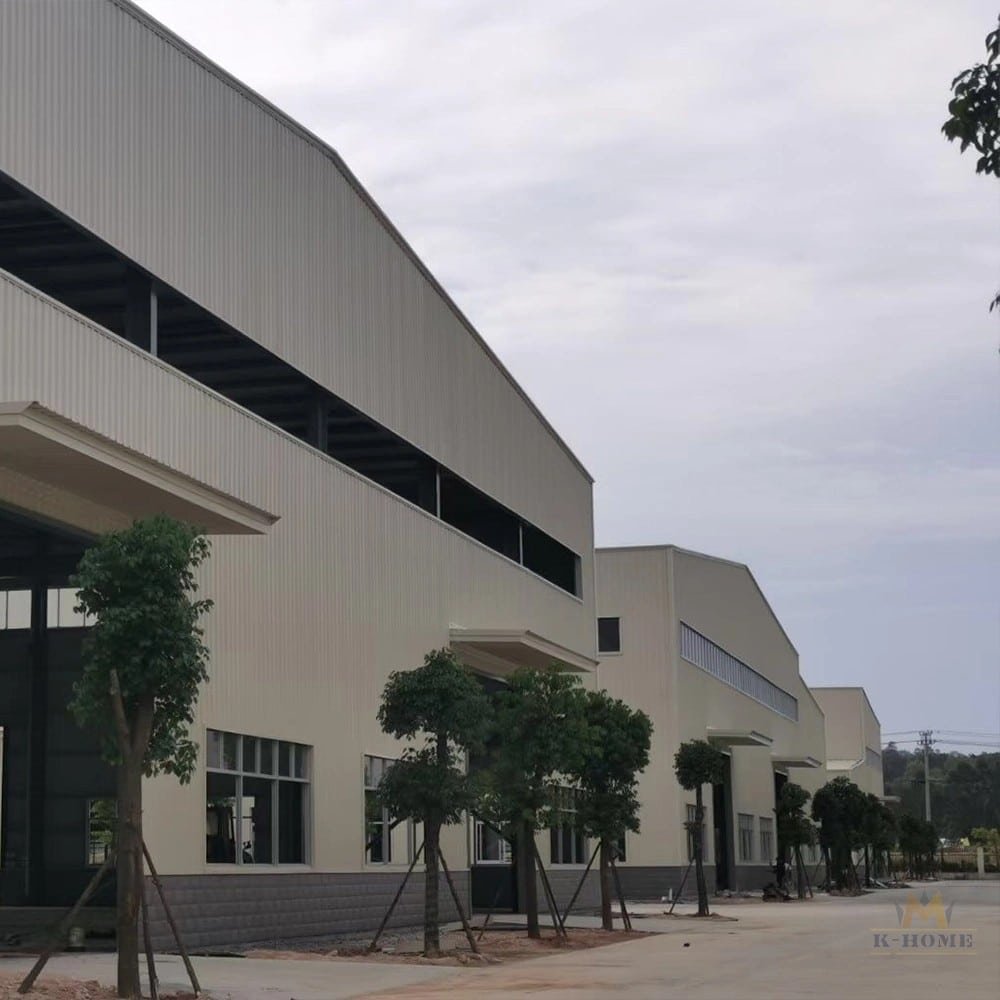 Building size: 80 x 20ft, the main structure is Q345 steel, The internal support and external cladding of the Metal Building Warehouse is made of steel. Both the vertical column and the horizontal beam are welded with H-shaped steel, and all parts are manufactured in the workshop. Workers on the construction site only need to combine the various structures with bolts convenient and fast, and the construction is simple.
A metal building warehouse can provide customers with customized solutions. The materials and colors of doors, windows, roofs, and wall panels can be customized according to your requirements. The layout size design follows the customer's ideas. All sizes are flexible.
We provide all the accessories needed to build the warehouse. The customer only needs to embed the anchor bolts in the foundation during the installation process to prepare the construction's steel structure.
The PEB Steel Building
Gallery>>
Metal Building Warehouse in Tanzania

Metal building warehouse mainly refers to the main load-bearing components are composed of steel. The metal warehouse in Tanzania was designed and supplied by K-HOME in China. In the Tanzania project, the region where the metal warehouse is located supports and accepts Chinese building standards. K-HOME has a professional design team with many years of experience, and careful design according to the local environment of the building ensures the safety and durability of the building.
Technical Parameters:
Main Structure: Q345B Welded H Section Beam;
Purlin: C Section Channel on for wall girt and roof purlin
Roof Cladding: Sandwich Panels/ Corrugated Steel Sheet
Wall Cladding: Sandwich Panels/ Corrugated Steel Sheet
Floor Deck: metal deck
Tie Rod: Circular Steel Tube
Brace: Round Bar
Column Cross Bracing and Roof Bracing: Angle Steel or Steel Rod
Fly Brace: Angle Steel;
Wrapping Cover: Color Steel Sheet;
Roof Gutter: Color Steel Sheet;
Downpipe: PVC Pipe;
Door: Galvanized coated steel Roller up door/men's door
Windows: Aluminum Alloy Window;
Connecting: High Strength Bolts
Advantages of Metal Building Warehouse
Shock Resistance
The metal structural system has a stronger ability to resist earthquakes and horizontal loads and is suitable for areas with a seismic intensity of more than 8 degrees.
Wind Resistance
Metal structure buildings have lightweight, have high strength, have good overall rigidity, and have strong deformation ability. The weight of the building is only one-fifth of that of the brick-concrete structure, and it can resist a hurricane of 70 meters per second, so that life and property can be effectively protected.
Durability
The metal structure buildings are all composed of cold-formed thin-walled steel components, and the steel frame is made of super anti-corrosion high-strength cold-rolled galvanized sheet, which effectively avoids the influence of corrosion of the steel plate during construction and use, and increases the service life of light steel components. The structural life can be up to 50 years.
Thermal insulation
The thermal insulation materials used are mainly glass fiber wool, rock wool, foam board or polyurethane, etc., which have a good thermal insulation effect. The use of thermal insulation boards for external walls achieves a better thermal insulation effect.
Health
The materials used in metal structure buildings can be recycled 100%, and most other supporting materials can also be recycled, which is in line with the current environmental awareness; all materials are green building materials, which meet the requirements of the ecological environment and are beneficial to health.
Comfort
The light steel wall adopts a high-efficiency energy-saving system, which has a breathing function and can adjust the dry humidity of the indoor air; the roof has a ventilation function, which can form a flowing air space above the house to ensure the ventilation and heat dissipation requirements of the roof.
Fast
For a building of about 300 square meters, only 5 workers and 30 working days can complete the whole process from foundation to decoration.
Environmental friendly
Materials can be 100% recyclable, truly green, and pollution-free.
Articles Selected for You
Contact Us >>
Have questions or need help? Before we start, you should know that almost all prefab steel buildings are customized.

Our engineering team will design it according to local wind speed, rain load, length*width*height, and other additional options. Or, we could follow your drawings. Please tell me your requirement, and we will do the rest!

Use the form to reach out and we will be in touch with you as quickly as possible.