Pre-Construction Services by K-Home
K-Home Company makes full use of the advantages of transportation and industrial agglomeration, processing raw materials directly through the steel plant to the processing site, reducing intermediate links while improving efficiency, providing low-cost, convenient, fast, and efficient for the construction of steel structure projects around the world. We are committing to solving the problems of processing difficulty and slow speed in some areas. K-Home has advanced steel processing equipment with an annual processing capacity of more than 25,000 tons. While ensuring product quality and technology, it also improves industrial production links and combines price reduction with efficiency improvement.
If you are planning to build a steel building, and need to know the budget for the whole project, please feel free to contact us for help. We will provide a professional design for you based on your local building code.
Where to Start
When you need to construct a steel building, the first thing you need to do is to check on your local building codes. The building codes mean a series of regulations that are standards on the construction. After you accord with these standards then you can get the planning permission.
Next, determine the use of your building and we will do the preliminary design for you.
Industrial Buildings: Factory, Workshop, Warehouse, Plant Building, etc.
Agricultural Buildings: Poultry Farm Shed, Greenhouse, Chicken Barn, Storage, Breeding chamber, etc.
Commercial Buildings: School, Shopping Mall, Hospital, Exhibition Center, Indoor Stadium, etc.
Preliminary Budget
Before you start all construction work, you might want to know how much it will cost. After you confirm the design, we will make a preliminary budget for you. The budget will include primary frame, secondary frame, wall and roof systems, floor material, and even electricity if you need it. The budget we make will be calculated based on the structure design and material chosen, which makes it as close to the actual cost as possible. You can use it for financial analysis.
Design Scope
Steel building design; structural calculation analysis (light steel, heavy steel, space grid structure, sculpture structure)
Building renovation and reinforcement design
Mechanical and industrial equipment design; power industry, industrial steel structure design (finite element analysis of steel structure)
Optimized design of steel structure
Project budget; cost analysis
Project general contracting (architectural planning, plumbing, heating, electricity and fire protection design)
3D rendering is to transform the floor plan design into a 3D model. After you and our team reach an agreement on the floor plan, we can make a 3D rendering for your project. It can add color to the wall and roof, and you can check the appearance from a different perspective. It looks like a real building just scaled down at the same proportion. A good 3D rendering will also be helpful for your presentation to other parties, promoting the realization of the project.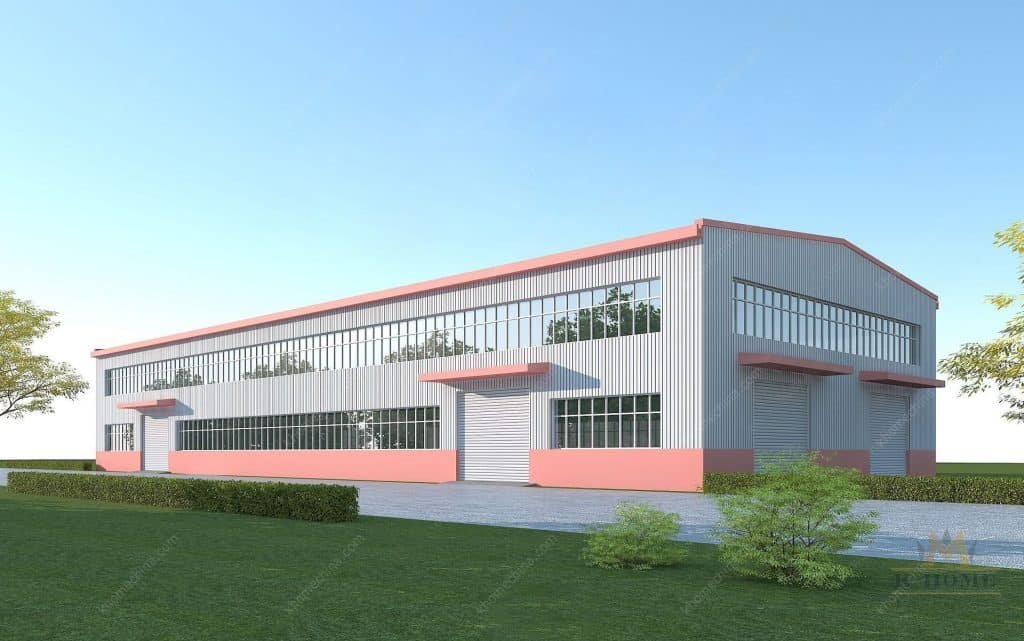 Steel Building Solutions
K-home serves prefabricated industrial, agricultural, and commercial buildings. We can provide you with the most efficient design and construction solutions for the fast and smooth construction of your steel building project.
Prefab Metal Steel Workshop Building Steel Structure Workshop Building K-home offering you 2 types of steel…
Blogs Selected for You
No matter where you are in the build process, we have the resources, tools, and guidance to ensure your project is a true success.
View All Blogs >
This Guideline(instruction) is long. You could use the quick link below, and jump to the part…
Contact Us >>
Have questions or need help? Before we start, you should know that almost all prefab steel buildings are customized.

Our engineering team will design it according to local wind speed, rain load, length*width*height, and other additional options. Or, we could follow your drawings. Please tell me your requirement, and we will do the rest!

Use the form to reach out and we will be in touch with you as quickly as possible.