Are you thinking about putting up a prefab metal building? If so, you might be wondering how long the process takes. Prefab metal buildings are a great option for those who want to have a durable and reliable structure without having to wait months for it to be built.
However, there are a few things that need to be taken into consideration when determining how long it will take to put up your prefab metal building.
In this blog post, we will take a look at some of the factors that will affect the time it takes to put up your prefab metal building. We will also provide some tips on how you can make the process go as smoothly as possible.
What is a Prefab Metal Building?
A prefab metal building is a type of building that is constructed from prefabricated parts. These parts are usually produced in a factory and then shipped to the construction site, where they are assembled into a completed structure.
Prefab metal buildings have many advantages over traditional stick-built structures. They are usually faster and easier to construct, and they can be built to custom specifications. In addition, prefab metal buildings are often more durable and require less maintenance than traditional structures.
How Long Does It Take To put up a prefab metal building?
It usually takes around three to four weeks to erect a prefabricated metal building. This timeframe can be further shortened if the building is being put up by a professional team with experience in doing so.
The first step in putting up the building is to level and compact the ground where it will be erected. The next step is to assemble the base rails of the prefabricated metal building. Once the base rails are in place, the walls and roof panels can be assembled. Finally, the doors and windows can be installed.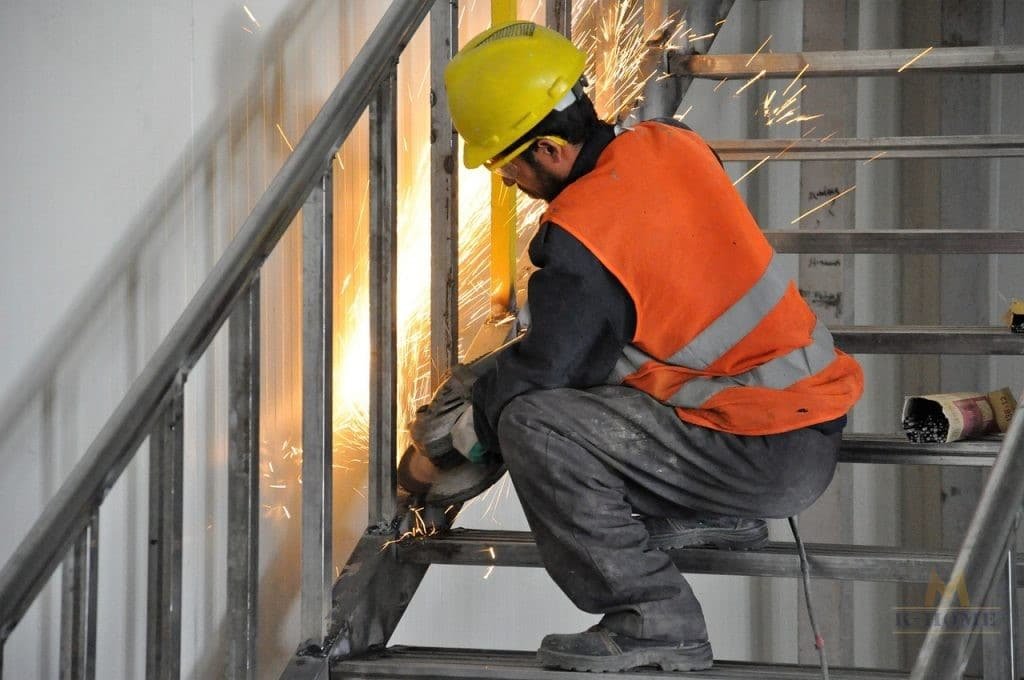 The benefits of prefab metal buildings
There are many benefits to choosing a prefab metal building over a traditional stick-built structure. Perhaps the most significant advantage is the amount of time it takes to construct a prefab metal building.
Because the components are manufactured in a controlled environment and then shipped to the job site, prefab metal buildings can be erected much faster than traditional structures. This can be a major advantage when you need to get your business up and running quickly or when inclement weather threatens your construction schedule.
Another benefit of prefab metal buildings is that they are extremely versatile. They can be designed to meet your specific needs and can be easily adapted as your business grows or changes. Additionally, prefab metal buildings are highly durable and require very little maintenance, which can save you money over the long term.
Further Reading: Steel Building Plans and Specifications
The disadvantages of prefab metal buildings
There are several disadvantages of prefab metal buildings. One is that the quality control of prefab buildings is often not as rigorous as that of traditional construction. As a result, prefabs can be more prone to leaks and other problems.
Additionally, because they are mass-produced, prefab buildings may not always fit together perfectly, which can lead to gaps and cracks. Finally, prefabs are typically more expensive than traditional buildings, due to the costs of manufacturing and shipping the components.
How to choose the right prefab metal building for you
When you're ready to add a prefab metal building to your property, the first step is choosing the right one for you. There are a few things to consider when making your selection:
| | |
| --- | --- |
| Purpose | What will you be using the prefab metal building for? Storage? Workshop? Garage? poultry house? Knowing the intended use of the building will help you narrow down your choices. |
| Size | How big do you need the prefab metal building to be? Make sure to measure the area where you plan to put it and factor in any extra space you might need for things like equipment or shelving. |
| Budget | Prefab metal buildings can range in price, so it's important to set a budget before you start shopping. Once you know how much you're willing to spend, you can narrow down your options. |
| Features | What kind of features do you want in your prefab metal building? Does it need to be insulated? Have windows or skylights? Be sure to consider what features are important to you before making your final decision. |
Conclusion
It generally takes around four to eight weeks to put up a prefab metal building, depending on the size and complexity of the structure. This timeframe includes the manufacturing process, which typically takes two to four weeks, and the construction process, which typically takes two to four weeks.
Of course, there are always exceptions and some projects may take longer or shorter than average. But in general, you can expect your prefab metal building to be up and ready for use within two months from start to finish.
Learn More About Influences the Price/Cost of Steel Building
Contact Us >>
Have questions or need help? Before we start, you should know that almost all prefab steel buildings are customized.

Our engineering team will design it according to local wind speed, rain load, length*width*height, and other additional options. Or, we could follow your drawings. Please tell me your requirement, and we will do the rest!

Use the form to reach out and we will be in touch with you as quickly as possible.
About Author:

K-HOME
K-home Steel Structure Co., Ltd covers an area of ​​120,000 square meters. We are engaged in the design, project budget, fabrication, and installation of PEB steel structures and sandwich panels with second-grade general contracting qualifications. Our products cover light steel structures, PEB buildings, low-cost prefab houses, container houses, C/Z steel, various models of color steel plate, PU sandwich panels, eps sandwich panels, rock wool sandwich panels, cold room panels, purification plates, and other construction materials.